"It saved Joel's life."
Within 30-minutes Joel Pohio would have died from the severe stroke he suffered on the 4 December 2018 if he hadn't received the clot retrieval process at Auckland City Hospital.
Joel, 38 at the time, was a healthy, fit and active Kiwi bloke. He has four beautiful children, all boys, with his wife Tessa and they own a business that complimented Joel's building background. They manufacture space saving wall beds and deliver nationwide throughout New Zealand. On the day of the stroke, Joel was meant to pick up a truck so he could drive to Wellington the next day to deliver a bulk order of wall beds, but that never happened.
On the 4 December, it was like any other morning, Joel had showered and was in the lounge and Tessa still in bed. She was immediately alarmed though when she overheard Joel talking to their boys. Something was drastically wrong – Joel's words were very slurred.
In a pure panic, Tessa rushed from the bedroom and found Joel lying on the ground. Joel had instantly lost mobility and was trying to get up from the floor on his good leg. Tessa instantly knew right away from the TV, learning the key signs from the advertisements about FAST from the Stroke Foundation, this was a stroke. She quickly called 111, explained the situation to the dispatcher, and had paramedics were on their way.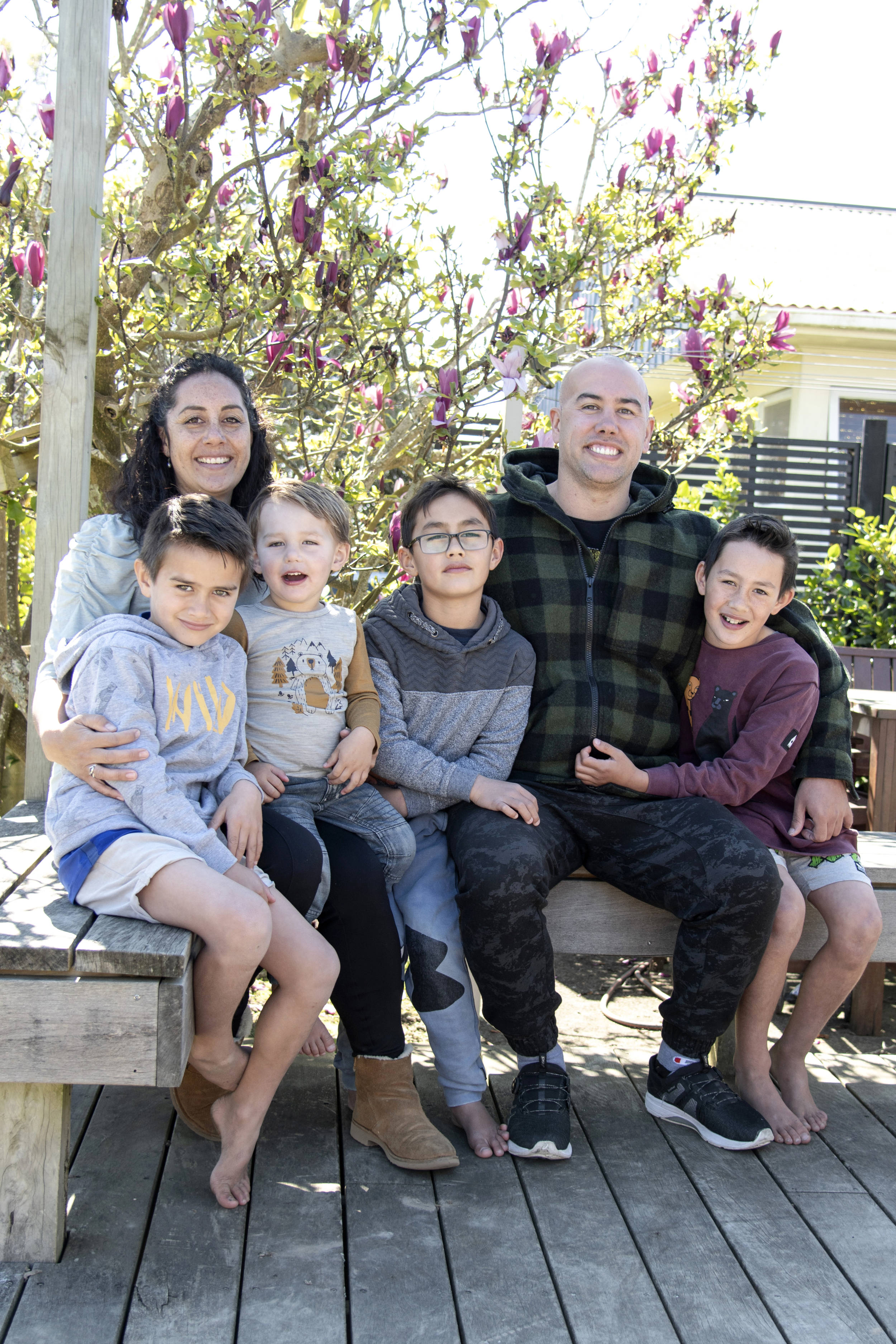 After a brief assessment at the house the paramedics called ahead to Auckland City Hospital (not North Shore which was closer), informing them they were bringing a patient in with a severe stroke and to get the team ready.
"We were extremely lucky that we were taken straight to Auckland Hospital and not North Shore or Waitakere (given we are in the Waitemata District Health Board region) as it would have lost precious time given the quick onset of symptoms". A CT scan revealed a blood clot was stopping all blood flow to the brain and that he would need the clot retrieval procedure.
The team explained the procedure and were positive this would help save Joel; they administered the clot busting drug and wheeled him off to the operating room leaving Tessa to wait and hope for the best.
Upon further reflection Tessa new that wasting time was not an option, and she remembers it has a big blessing. "Half an hour more he wouldn't have made it. I was surprised how quickly I spotted the slurring."
Once the clot retrieval procedure was finished, Tessa remembers they wheeled Joel out and he still had some slurring and mobility issues. That evening, Joel had a CT scan which identified that his brain had some swelling and explained that he would have another scan in the morning. The medical team advised that as a worst case scenario, if his brain continued to swell, he would require another procedure where they would remove a portion of his skull to relieve both the pressure and swelling on his brain.
At this point Joel's entire family, mum, dad and brother were all aware of what happened to Joel earlier in the morning, and Joel's sister flew in from Australia. She decided to stay with Joel at the hospital that night, which was also another blessing in disguise, as things went pear shaped during the night.
Joel had an adverse reaction to the clot busting drug administered upon arrival to the ED before the during the clot retrieval procedure, causing a bleed on his brain which in turn caused the swelling in his brain to increase and become life-threatening. By morning Joel had rapidly deteriorated substantially and Tessa, Joel and their family were now facing the worst-case scenario. Joel was rushed back into the OR where he required life-saving surgery. The team worked fast to remove a piece of his skull to alleviate some of swelling in his brain.
"Without the clot retrieval process and craniectomy, it could have been a very different story". Tessa, Joel, their four boys and the entire family, are just happy Joel survived.
Tessa and Joel had no knowledge of strokes before his event, and they were later told that the clot retrieval was a relatively new procedure that Professor Alan Barber and his team have been perfecting for the last twelve years and is only carried out in Auckland, Wellington and Christchurch.
When they were asked what they hope sharing their story with our supporters and New Zealand would accomplish, they had a simple answer.
"To bring awareness about stroke, it is the second biggest killer in New Zealand – it doesn't discriminate - it can happen anywhere, at any time, to anyone."
The clot retrieval procedure not only saved Joel's life but countless of others.
We need your help
The people and projects we fund are only able to happen thanks to our donors.
Your donation will help support more ground-breaking research and development of life-saving treatments like clot retrieval.